Guro PHIL NORMAN Seminar at Complete Self Protection Sunday 19th May 2013 3 Hours 10:30 am Start – CSP – Leon Leisure Centre – Milton Keynes I have great pleasure in announcing the legendary Phil Norman will be teaching another exclusive seminar for us again this year at CSP this May. Every year we bring some of the absolute best people in the world to come along and teach seminars for the CSP group and our friends, and this one...

"World Class JKD"4 Hours of JKD Instruction from one of only a handful of UK Full Instructors under Guro DanSaturday – 6th July 2013 – 9am to 1pm Mick and I are both extremely honoured to be able to call Terry Barnett our Instructor and as much of what we teach at CSP is shaped and influenced by Terry's unique style and vast wealth of experience, we are passionate about providing an opportunity to all of our students to...

NEW Workshop Dates for 2013 CLICK HERE
Martial Arts for Fun ~ Self Defence for All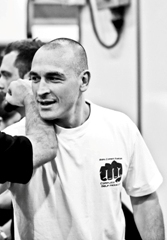 CSP (Complete Self Protection) was founded by Al Peasland to bring a new dimension to the world of Martial Arts and Self Defence.
Focusing on the latest self defence techniques and concepts, CSP provides a fun and efficient way of learning effective skills that can better equip you to protect yourself and your loved ones in the event of a violent confrontation.
 "To protect ourselves from ourselves and go on to lead more fulfilling lives is the real art of Complete Self Protection"
At CSP you can study and grade in TWO separate systems:
REAL COMBAT SYSTEM  
MINNESOTA KALI GROUP SYSTEM
Al Peasland, Founder and Chief Instructor of CSP, assisted by Mick Tully, who teaches CSP Classes in Coventry, have a combined 50 years of experience in the Martial Arts world, and are able to offer Cutting Edge instruction and consultancy in any of the following areas:
Weekly Martial Arts Classes
Private 1-2-1 Self Defence Tuition
Martial Arts Seminars – around the World
Martial Arts Instructional Books and DVD's
Women Only Self Defence Workshops
Corporate Personal Security Presentations
Motivational – Life Coaching Presentations
Fight Choreography
Enjoy the clip below to get an insight into the types of training you will receive and the skills you will learn with Al Peasland and Mick Tully at Complete Self Protection
 


Click any of the links below to Navigate directly to your pages of interest