Micks Martial Arts Check out our very own Mick Tully with his very own podcast show. Listen to the exclusive interviews with some of the world's leading Martial Artists  MICKS MARTIAL...
Martial Arts for Fun ~ Self Defence for All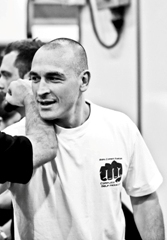 CSP (Complete Self Protection) was founded by Al Peasland and Mick Tully to bring a new dimension to the world of Martial Arts and Self Defence.
Focusing on the blended mix of Martial Arts that form the JKD system, CSP provides a fun and efficient way of discovering these ancient arts whilst also learning skills that can better equip you to protect yourself and your loved ones in the event of a violent confrontation.
 "To protect ourselves from ourselves and go on to lead more fulfilling lives is the real art of Complete Self Protection"
At CSP you can study and grade in:-
MINNESOTA KALI GROUP SYSTEM
Al Peasland, Founder and Chief Instructor of CSP, assisted by Mick Tully, who teaches CSP Classes in Coventry, have a combined 50 years of experience in the Martial Arts world, and are able to offer Cutting Edge instruction and consultancy in any of the following areas:
Weekly Martial Arts Classes
Private 1-2-1 Self Defence Tuition
Martial Arts Seminars – around the World
Martial Arts Instructional Books and DVD's
Women Only Self Defence Workshops
Corporate Personal Security Presentations
Fight Choreography
Enjoy the clip below to get an insight into the types of training you will receive and the skills you will learn with Al Peasland and Mick Tully at Complete Self Protection



Click any of the links below to Navigate directly to your pages of interest