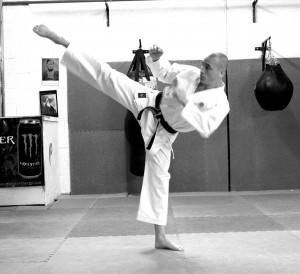 With 29 years of martial arts training, Al Peasland has diversified from the traditional arts of Karate and Western Boxing, through "Reality Based" training and now into the incredibly beautiful and well rounded arts of JKD, which he is able to share under the banner of Complete Self Protection.
In addition, with many years experience as a nightclub doorman, Al has put his own life on the line in order to pressure test alot of the techniques and concepts taught in CSP.
Al is fully qualified to offer certified training in a blended style containing many of the most effective techniques from Boxing, Karate, Muay Thai, Greco-Roman Wrestling, Freestyle Wrestling, Sambo Russian wrestling, Judo and many others.
Al's understanding of Fear and the effects we all experience of adrenaline in high stress situations is what sets CSP apart from other self-defence classes and is what forms the basis of the prime philosophy of CSP which is to avoid conflict at all costs. 
Al's qualifications include:-
Instructor in Terry Barnett's Integrated Arts (JKD Concepts)

Affiliate Instructor with Rick Faye – Minnesota Kali Group (MKG)

Associate Instructor with Michael Wright – Adaptive Martial Concepts (AMC)

5th Dan Senior Instructor with the BCA (British Combat Association)

3rd Dan Karate with CEKA affiliated to JKA

1st Dan Shotokan Karate with KUGB

1st Dan Sambo Russian Wrestling

ABA Assistant Boxing Coach

Freestyle Wrestling Coach

Greco-Roman Wrestling Coach

NLP Practitioner – registered with the Society of NLP
 Scroll down to view some of Al's promotional trailers
Al Peasland

2008
Promotional
Trailer

 

Al Peasland

2009
Promotional
Trailer

 

Al Peasland

2010
Promotional
Trailer