For November, we're so proud to have the fabulous Eddie Quinn teaching his unique Approach system on our CSP Monthly Workshop, that we've decided to open the doors on this, ordinarily, invitation-only session.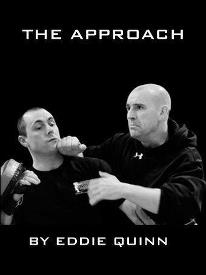 Eddie, has been training in the Arts for over 25 years and has an impressive array of qualifications. Arts such as Muay Thai, Indonesian Silat, Filipino Eskrima, Sambo Russian Wrestling, Western Boxing and Japanese Ju Jitsu, have all contributed to his widely acclaimed Approach system.
Following a fun session at Eddie's Approach Workshop some weeks ago, Eddie has kindly offered to return the favour and come along to teach for us and I can't think of many better instructors to invite into the CSP Workshops, who share a similar approach (pardon the pun) and philosophy to the world of Self Protection and more importantly, Martial Arts.
A huge thanks to Eddie for all of his support, and for helping to make this special event happen.
For more information on Eddie Quinn and his Approach System, visit his website here at www.the-approach.com
A big thanks must also go to a good friend Wayne Lakin for all his help in providing a wonderful venue and also all of the mats and equipment for these monthly sessions.
Sat 10th Nov 2012
Session will be 4 hours
Start: 09:00 Finish: 13:00
Cost: £30 for CSP Family – £40 for Non-CSP Members

Contact Us
info@alpeasland.com
louise@alpeasland.com
07967 000 282 – Al
Please Note:
Places will only be secure once payment is received – so paying on the day is no guarantee there'll be room for you to train