Guro RICK FAYE Seminar at Complete Self Protection – MK
Saturday 12th November
3.5 Hours
10:00 am Start – Hinckley Leisure Centre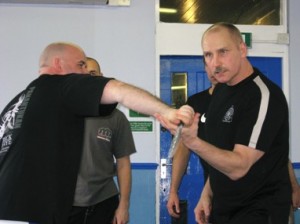 We are honoured to have such a close association with one of the best martial artists on the planet today. Rick has generously allowed us to teach his system as part of our grading syllabus and we're proud to be able to host Rick during his UK tour.
Thanks to my good friend, Wayne Lakin, we'll be holding this event at the fabulous Hinckley Leisure Center – see below for details
If you are a CSP student – this is your chance to train with one of the main influences of our system – do not miss this opportunity.
The session will contain some of the core elements to the MKG syllabus and will include MUAY THAI, CSW, JKD, PANANTUKAN, KALI
Cost:
£40 per person – pay in advance
£45 per person – pay on the day
£30 per person for CSP Monthly Members
Fellow Instructors – Train for FREE when you bring 5 students


Venue:
Hinckley Leisure Centre
Coventry Road
Hinckley
LE10 0JR

Date:
Sat 12th November


Time:
Arrive 10:00am for a 10:15am Start
Finish 13:45pm (ish)

How to Book:
email: info@alpeasland.com
call: 07967 000 282
quote: Rick Faye Seminar
or
Book On-Line:
Please Note:
Places will only be secure once payment is received – so paying on the day is no guarantee there'll be room for you to train
There will be NO Saturday morning CSP class on this date – sorry folks.