"World Class JKD"
4 Hours of JKD Instruction from one of only a handful of UK Full Instructors under Guro Dan
Saturday – 30th June 2012 – 9am to 1pm
Following the fantastic seminar we had in 2011 with our Instructor and Mentor, Terry Barnett – we simply had to make a repeat event happen for 2012.
Mick and I are both honoured to be able to call Terry Barnett our Instructor and as much of what we teach at CSP is shaped  and influenced by Terry's unique style and vast wealth of experience, we are passionate about providing an opportunity to all of our students to train with this great man.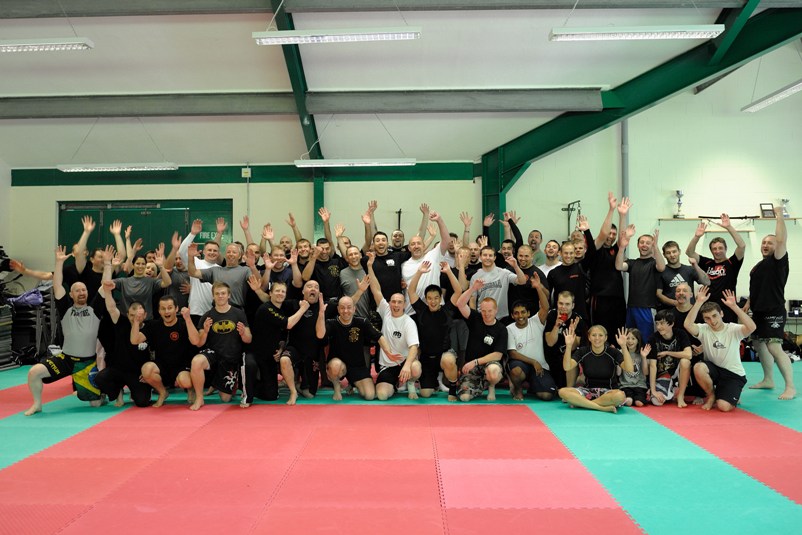 The 4 hours will be a masterclass in Filipino Martial Arts and Jun Fan Gung Fu (the art and philosophy of Jeet Kune Do)
The seminar will include Boxing, Panantukan (Filipino 'dirty' boxing), Muay Thai and Kali – if time permits.
As one of only a handful of Full instructors under Guro Dan in the UK, I cannot emphasise enough how exceptional this seminar is going to be.
Pictured here with Guro Dan Inosanto, Terry Barnett is one of our biggest influences.

He is simply one of the best out there – and I don't just mean as a Martial Artist or an Instructor!

I shall leave it up to Guro Dan Inosanto to give you an idea who you could be spending the best 4 hours of your martial arts career with…

"Terry Barnett has been my student since 1979. Terry is one of the few individuals to have achieved the rank of 'Full Instructor' in the Filipino Martial Arts and The art of Jun Fan Gung Fu, (the art & philosophy of Jeet Kune Do) under my instruction.
Terry's loyalty, integrity, compassion and excellence in teaching the arts is surpassed by very few."
Guro Dan Inosanto
Venue
Leon Leisure Centre
In the Small Hall
Fern Grove
Bletchley
Milton Keynes
MK2 3HQ

Costs
£30 per person

Places will be limited so early booking is essential
(Note – places will only be reserved with full payment)

CSP Student Discount
For ALL Monthly Paying CSP Students there will be a discounted fee
£20 per person

Instructors – Train Free
Fellow Instructors – train for free if you bring 4 or more students

Time
9am Start
1pm Finish

Contact Us
INFO@ALPEASLAND.COM 


View Larger Map
CSP Monthly Students – Click Here for your discounted payment of £20 per person – non-refundable

Please click here if you are a Non-CSP Monthly Member.
All reservations require full payment of £30 per person – non-refundable