MULTIPLE ASSAILANTS – DVD (1 hour)
Price Slashed to only £15.00 for 2014

Buy It Now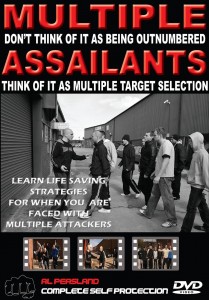 If you have ever experience the shear terror of facing a group of attackers, you will understand the need for this DVD.
Having spent many years working on nightclub doors, Al knows exactly what it is like to be confronted with aggressive, determined individuals who are working together as a gang or group.
In this DVD, Al looks at the strategies and attack rituals that gangs and groups typically employ.
Al then looks at the approaches you should take in order to increase your chances of a successful outcome against these seemingly overwhelming odds.
Finally, you get to join Al, Mick and the CSP students as they drill and train various concepts and strategies that are proven to be effective against situations such as these.
A very informative, educational, and powerful DVD.
With over an hour of footage in the main DVD, plus some hilarious out-takes, this is one CSP DVD not to miss.
 Watch the trailer here (Caution – some clip contains some bad language)