SELF DEFENCE FORUM
THE ULTIMATE SEMINAR – DVD (2 Disc Set)

Price Slashed to only £15.00 for 2014

Buy It Now
On Saturday 21st Feb 2009, The Self Defence Forum hosted a very special event.
It was called "The Ultimate Self Protection Seminar" for a very good reason.
Now here's your chance to watch what over 140 people were treated to during this 8 hour day of First Class Self Protection tuition from 9 of the best instructors in the business today.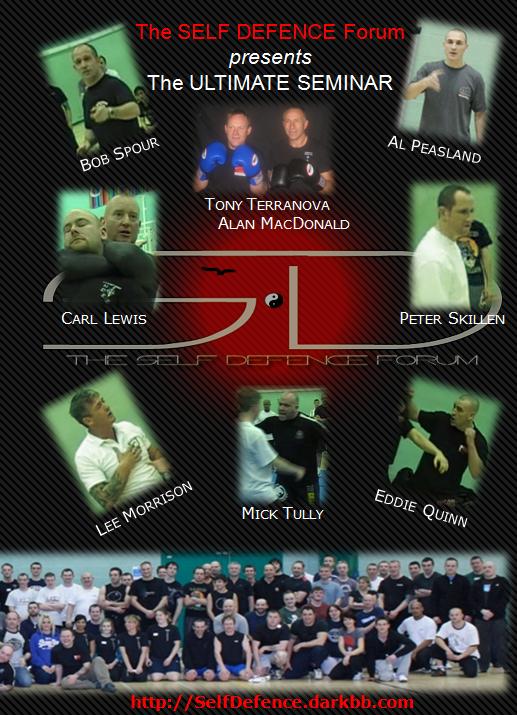 The event was initially a gift to all of the members who support the Self Defence Forum, but quickly expanded into being one of the best seminars I've ever attended. The line up was fantastic with the emphasis being that each instructor taught just one small aspect of the whole Self Protection subject.
This DVD set gives you the chance to review some of the material taught during the day and gain an insight into the expertise of the following instructors:-
Bob Spour, Tony Terranova, Alan MacDonald, Al Peasland, Carl Lewis, Peter Skillen, Eddie Quinn, Lee Morrison and Mick Tully.
Just some of the subject matter covered includes:-
Attitude and Mental Preparation, Fighting Fitness, Power Generation, Fence Concepts, Power through Restriction, Verticle Grappling, Chokes and Strangles, Stand-up Striking, Full Impact Training, Silat and Close Distance Finishing with The Approach, Mindset and Blitz Attacks, and Ground Fighting, Street Based BJJ.